We've been getting some great reviews about our new Organic Baby Massage Experience gift set. Mums, dads and babies are loving it and we're delighted!
Here's some of the lovely things parent bloggers have had to say:
Dave wasn't sure what to expect when we sent him our gift set, but he and Baby L got on with it wonderfully. He said: "I must admit that I'm not normally into organic or natural products. If I'm at the supermarket I'll buy the mid-range potatoes rather than spend a little extra on the organic spuds. However, with this being a product for the fruit of my loins, it is great to know that these products are as natural as they can get." Read the full review.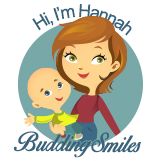 Hannah tried out our gift set when her son Toby was about four weeks old. She said: "Toby was so calm throughout the whole thing, I was amazed! He laid there looking around, sometimes focusing on me (as much as a 4 week old can) and seeming more chilled than I'd ever seen him…I love how soft his skin feels afterwards and the time we spend doing the massage is a really lovely, calm Mummy baby experience which feels very personal." Read the full review.
Hayley used gift set with her twin boys. She said: "I am absolutely delighted with these products and as a parent to three children with eczema I would not hesitate to recommend Tiddley Pom to other parents. This gift set would be perfect as a gift for a new baby, a great introduction to relaxing baby massage and kind skincare too. I will be buying these products again; I am very impressed with the range and so happy that they are good for my boys' sensitive skin." Read the full review.
Jessica tried the gift set with her son Jasper. She said: "I really can't rave about Tiddley Pom enough; I've reviewed a lot of organic products but this has to be my absolute fave. I love everything from the packaging to the mood that Jasper slips into when in his spa zone." Read the full review.
Our Organic Baby Massage Experience gift set is exclusively available from Boots.