To Natural Soothing Lotion
Tiddley Pom

Committed to caring for baby's skin naturally
To Natural Soothing Lotion
Tiddley Pom
Committed to caring for baby's skin naturally
natural mother and baby skincare range in aluminium and glass bottles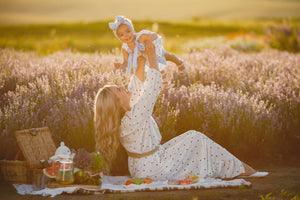 Zero waste, natural, soil association approved vegan and vegetarian baby spa range - Loved by Baby Massage Teachers.
Many of us are trying to reduce the amount of single use plastic in our bathroom's and whilst there is choice for us as adults, the baby and children's ranges still insists on using plastic.
We might think we can't change the world in a big way through the baby products that we choose, but cumulatively, a switch as simple as ditching plastic on our baby wash & shampoo could save thousands from entering our oceans throughout our lifetime.
When you consider that 80 billion plastic shampoo and conditioner bottles get thrown out globally each year we can start to impact that number by making easy choices.  
Welcome to Tiddley Pom Baby Spa
Emma Nash is the creator of natural and ethically sourced Mum & Baby spa brand TIddley Pom - Creating beautiful and natural gift sets and individual spa products delivered to your door.
Vegan & Vegetarian product range created from the finest English soil association approved ingredients to provide natural products to Momma and baby.
Widely used and accepted as the best by Baby Massage & Yoga Teachers, Doulas and Midwives across the UK. 
We hand-blend in the UK organic and natural essential oils and ingredients to create bespoke, skincare that has provenance, in aluminium packaging that can be reused and recycled with no waste. You can choose your products with or without pumps to further reduce waste, swapping the pump from your used bottle to the new product, and either reusing or recycling the old.
No mass production. No waste. Just beautifully natural, sustainable baby skincare that's as good for baby (and you)  as it is for the planet.
Emma Nash (Founder) 
Take a look at our range