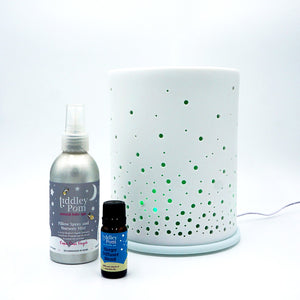 Save when you buy our Sanctuary Sleep Bundle!
The bundle includes:
1 x Sanctuary nursery aroma diffuser 
1 x 10ml Sleepy blend essential oil 
1 x 150ml Nursery spray and pillow mist
1 x Baby night time musical download
The Sanctuary is our deluxe diffuser, with colour changing light and looks beautiful in any setting  - The Sanctuary work best combined with these sleepy baby bundle products. Getting little ones to sleep with little fuss is one of the the things a parents most desires. Using the bundle you'll be assured of a peaceful bedtime routine and restful nights sleep from your baby All products are natural and safe to use with even the youngest of babies. Full product specification can be found under each individual item in the shop.