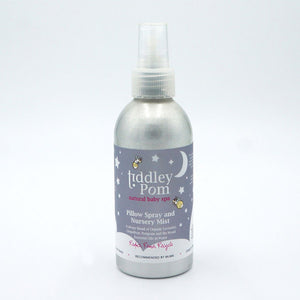 Tiddley Pom's divine smelling, vegan and 100% natural sleepy blend.
Ease Your Little One Into a Deep Sleep: Make slumber time less stressful by making your baby feel naturally sleepy with the aromatherapeutic scent of grapefruit, petitgrain, and lavender essential oil in our relaxing baby pillow sleep spray.

Set the Right Mood in the Nursery Room: Spritz this baby sleep aid in the nursery or on beddings to create a calm atmosphere through aromatherapy. Create a better baby bedtime routine with our lavender pillow spray.
A Little Goes a Long Way: You'll only need a small amount of this sleep spray to fill the entire room with a calming fragrance for your baby. Gentle on the skin, you can use it as a toddler pillow mist and room spray, and watch it work its magic!
The Only Sleeping Spray You'll Need: Our sleep spray pillow mist is suitable for all ages. We have designed this convenient sleep pillow spray with lavender oil to give a soothing scent that allows everyone in the room to relax more easily.
The Home to Natural Baby Spa: We believe that when we reconnect with the natural world, it benefits us all. That's why our products are ​​developed using only natural ingredients. They promote happy babies — and happy parents too!
Product Description
Better Sleep for Your Whole Family
Get the soothing room spray fragrance of lavender oil all-night with our sleep pillow spray. This sleep mist with grapefruit, ho wood, petitgrain, and lavender essential oil can be lightly spritzed onto the bed pillow for that divine-smelling scent everyone in the room will love.
This pillow spray to help sleep adults, babies, and children caters for the whole family. Experience sweet sleep every time by spraying this pillow sleep mist all over your pillow and beddings .
Our lavender pillow spray sleep mist is one of the perfect baby shower gifts to help the new baby have a quality slumber time. Give this as one of your baby gifts to provide gentle care for a newborn baby.
Product Benefits You'll Love:
Aromatherapeutic scents

Created for use in any room

Helps you and your baby sleep

Soothes and calms restless baby

Vegan, fair-traded, and cruelty-free
Key Ingredients: 
Lavender

Ho Wood

Grapefruit

Petitgrain Essential Oils
Directions For Use: 
Check the baby after 15 minutes on the first use.

Spritz our lavender sleep spray into the air or onto the sheets to encourage a gentle and natural sleep. 

As your baby grows and moves into their own bed (approx. 18 months) you can spray the pillow mist directly onto their pillow before bed.