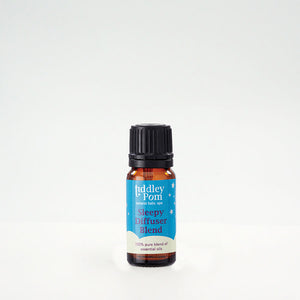 A gentle sleepy blend of 100% pure and natural essential oils for use in a diffuser.  This unique blend created by our expert aromatherapist creates an atmosphere of calm and peace, encouraging a gentle, natural sleep for baby.  
Tiddley Pom Sleepy Diffuser Blend works best in the Kharis or Sohpie diffuser and is a perfect mix of English Lavender, Grapefruit, Petitgrain and Ho Wood oils – light floral notes, combined with sweet citrus, green notes and a gentle woody base makes this the perfect calming and sleepy blend for nurseries and even your bedroom.
Instructions:  put 3 drops into the water container in your diffuser and to let the beautiful sleepy aroma gently diffuse into the air.
Ingredients
English Lavender Oil
Brazilian Ho Wood Oil
Pink Grapefruit Oil
Sicilian Petitgrain