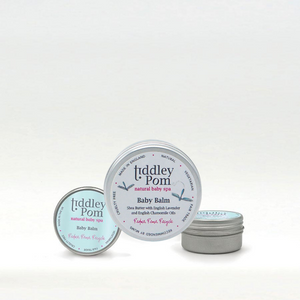 Tiddley Pom is famous for its natural soothing Baby Balm that can (if we may be cheeky here) be used on both sets of cheeks!
Up to a third of babies and toddlers in nappies have nappy rash at any one time. Nappy rash can be caused by:
Baby's skin being in contact with soiled nappy (usually when baby starts sleeping through the night) 

Nappy rubbing against baby's skin 

Soap, detergent or bubble bath or even alcohol-based baby wipes

Weaning and changes in diet

Teething 

Common cold and other minor illnesses 
There may be red patches on your baby's bottom, or the whole area may be red. Their skin may look sore and feel hot to touch, and there may be spots, pimples or blisters. Most babies with mild nappy rash don't feel sore, but if the rash is severe your baby may feel uncomfortable and be distressed.
Tiddley Pom Baby Balm is also suitable to be used on baby's face, cheeks and under the chin to help prevent milk sores from pools of milk or dribble sitting on baby's skin when feeding or when teething. 
Natural - Vegetarian - Fair Trade - Cruelty Free - Made in the UK

Helps prevent dryness and allows baby's sensitive skin to retain natural oils

Suitable for all severity of nappy rash and teething dribble sores

Suitable for problem skin conditions incl eczema, psoriasis and dermatitis

Used after every nappy change and as often as needed on teething sores or milk rashes 

Long lasting - only a small amount needed
99% certified organic ingredients

It contains smooth, luxurious butters such as shea and coconut from our fair trade African partner and English lavender and chamomile to heal and soothe

Rich in omegas 3, 6 and 9 to moisturise and protect

Our baby balm comes in a reusable aluminium tub, which won't crack or break in your baby bag or if dropped

Once you have finished with the tubs, remove label, wash out tub and reuse over and over again in your family home or pop into your household recycling
 Size: 50ml and 2X30ml 
Whilst it is very rare that a baby has an allergic reaction to any of the natural ingredients in our products, as a precaution it is advisable to carry out a patch test on the baby before used for the first time. A small amount of the product should be gently applied to the inside of the wrist. Wait a minimum of 15 minutes before commencing use with the product.