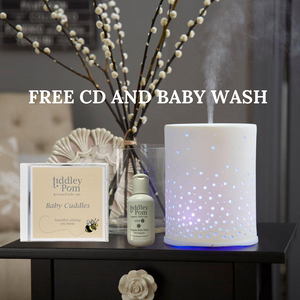 Sophie nursery aroma diffuser 
FREE 50ml Baby wash and Shampoo 
FREE Baby Cuddles CD and Download 

The Sacntuary Nursery Aroma Diffuser is made using only the finest high quality materials resulting in a truly stunning and elegant creation which calms your nursery with fragrance, colour and light. Sophie emits a soft colour changing light which dances effortlessly around your space and works in perfect harmony with the delicate cascade of mist and scent, transporting you to a truly magical world. 
FREE Baby Cuddles CD and DOWNLOAD - Six soothing tracks by Icelandic composer and guitarist, Fridrik Karlsson, which are designed to calm the most ragged nerves 
FREE 50ml Baby Wash and Shampoo - Combine use of the diffuser,  with music alongside a bath using our natural relaxing bubble bath/baby wash and shampoo.