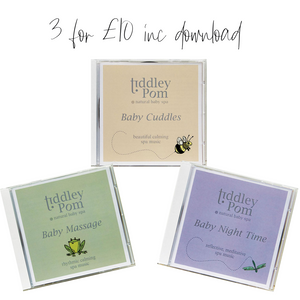 Baby Cuddles, Baby Night Time & Baby Massage
3 x CD's & 3 x Download's
Baby Cuddles  - Six soothing tracks by Icelandic composer and guitarist, Fridrik Karlsson, are designed to calm the most ragged nerves. 
In our busy lives, it's important to find time to enjoy our children; the gentle rhythms of Karlsson's music help create such a moment.
Guitar chords and the percussive sounds of a wind chime are pitched at just the right level to suit a baby's hearing. This collection makes a perfect accompaniment to nursing a baby in one's arms or on the knee after an upset, swaying in time to the relaxed tempo of the music.
Baby Massage - When the art of massage, the calming scent of Tiddley Pom essential oils and the beautiful music of Icelandic composer and guitarist, Fridrik Karlsson are all brought together, a feeling of well being is assured.
These four tracks create the ideal ambience for a mother to bond with her baby, the music perfectly complementing the small soft movements of massage. Relax and let the music work its restorative magic.
Baby Night time - Icelandic composer and guitarist, Fridrik Karlsson has created three soundtracks with guitar chords and percussive wind chimes that lilt like a lullaby.
Set the lighting low, stroke your baby on the hand or head, and let the worries of the day melt away as your child drifts off into the land of nod. Ideal for parent and baby to listen to together and de-stress after a busy day.