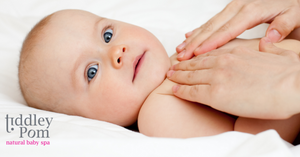 Create memories with our multi sensory baby spa experience using smell, touch and sound to support baby development and parental bonding.  This 90 minute spa is a relaxing and de-stressing experience for parents too.
This experience has been developed by experts at the award winning brand, Tiddley Pom Natural Baby Spa.  For over 10 years we have developed natural spa products designed specifically to support bonding and baby neuro development.  Our sister company AromaTherapy Shed has created a natural relaxing essential oil blend especially for this experience for parents to take away with them so that the relaxing vibe continues!
Multi sensory lights, bespoke aromatherapy diffuser blends, and gentle spa music create the perfect spa ambience
Baby bathes in our award winning baby wash
The bath is followed by our therapist developed bonding massage
Parents are offered a neck and shoulder massage to release tension
Parent and baby can have their photograph taken
Session is finished off with some baby yoga and breathing exercises
Gift bag for parent containing AromaTherapy Shed natural product created especially for this experience (plus a 20% discount code for Tiddley Pom and AromaTherapy Shed products)
Dates: Every Thursday & Friday
Times: 11am or 1pm
Duration: 90 minutes
Location: The Nature Centre, Off Dorlcote Rd, London SW18 3RT, UK
More venues to be announced shortly...
Cost: £35 per session
Spaces are limited
Please read 'What you need to know' and 'What you need to bring' for further information
Book here: 
https://bookthatin.online/tiddley-pom
Please note that payment will show as 'Aromatherapy Shed' on your statement