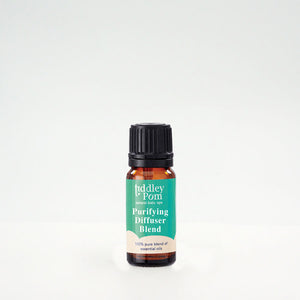 A purifying blend of 100% pure and natural essential oils for use in a diffuser.  This unique blend created by our expert aromatherapist helps purify and cleanse the air in your home.  
This purifying blend Lemon Peel, Siberian Fir Needle, Eucalyptus radiata, Lime Peel, Melaleuca (Tea Tree) Leaf,  Tangerine peel oil helps to cleanse and disinfect the air and neutralizes odour within your home. Naturally disinfecting the air and smelling amazing at the same time. Stop filling your home with artificial scents and look to nature to supply all the natural scents we need.
Instructions:  put 3 drops into the water container in your diffuser and to let the beautiful sleepy aroma gently diffuse into the air.
Ingredients
Lemon Peel
Siberian Fir Needle
Eucalyptus radiata
Lime Peel
Melaleuca (Tea Tree) Leaf
Tangerine peel