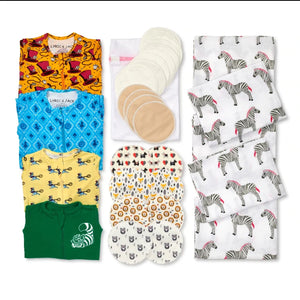 Super Mummy Bundle is perfect
Jubblies' limited edition hamper is full of goodies for mum and baby alike. It is the perfect mummie's gift, or an epic baby shower present New mummas can certainly treat themselves to this luxury set, which provides for their needs as well as baby's. 
This kit includes Jubblies' products as well as select items from our sister company Lyric & Jack. 
- Jubilant Bundle which includes 20 reusable nursing pads and a laundry bag to see mum through the breastfeeding journey in maximum comfort and style
- 4 Alice in Wonderland themed bamboo zip-up babygrows
- 5 muslin burp cloths with zebra design