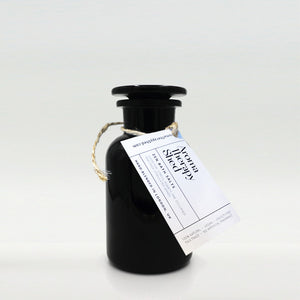 100% Natural Luxury Zen Bath Salts 
GOOD FOR: STRESS, ANXIETY, PRE-OCCUPIED AND OVER-STIMULATED MINDS
This intoxicating blend presented in a deep purple miron glass bottle will allow you to escape to your happy place, wherever you happen to be. Simply add a little sprinkle of zen salts to a running bath, then relax, close your eyes and breathe away the chaotic day. 
The powerful calming Indian Jasmine works wonderfully with the gentle spice of Black Pepper oils.  These two soothing and grounding oils are balanced by South African Rose Geranium, Sicilian Bergamot and the grounding sweet notes of Egyptian Frankincense.
THE BLEND: THIS BESPOKE BLEND COMBINES AN EXOTIC MIX OF SWEET INDIAN JASMINE ALONGSIDE PIQUANT BLACK PEPPER OILS. SOUTH AFRICAN ROSE GERANIUM, SICILIAN BERGAMOT AND EGYPTIAN FRANKINCENSE HELP TO SETTLE AND BALANCE.

200mg of zen Salts in a beautiful miron glass bottle.